Catering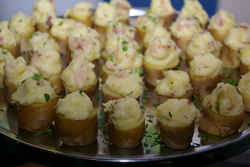 Dan Close Food Concepts provides superior catering services for groups of any size. Please contact us at info@danclose.com to see how we can "WOW!" you and your guests.
"I had the privilege of participating in a personalized cooking class that Dan created for me and my family and it was a such a great experience. The food was fantastic and the presentation was impressive. As a nutritionist and business owner, I am inspired by Dan's passion for food and I admire his dedication to creating products where quality is of utmost importance. Dan is professional, knowledgeable,adaptable and above all, fun!"
Andrea Wilson Ferguson
Dan,
Thank you for the wonderful meal at our daughter's rehearsal dinner September 2011.
Your wonderful meal was appreciated by our family and friends. We found the menu well thought out, offering a wide range of foods, which were prepared exceptionally well taking into consideration our family's diverse dietary concerns.
We appreciated the focus on the planning and flow of our event which was exceptional, and we were thankful for your thoughtfulness with regards to the ease of serving and cleanup. Thankfully you had the resources to handle our moderate needs without undue stress.
Thanks you for a wonderful meal!
Cam and Sue Taylor